Callander Community Development Trust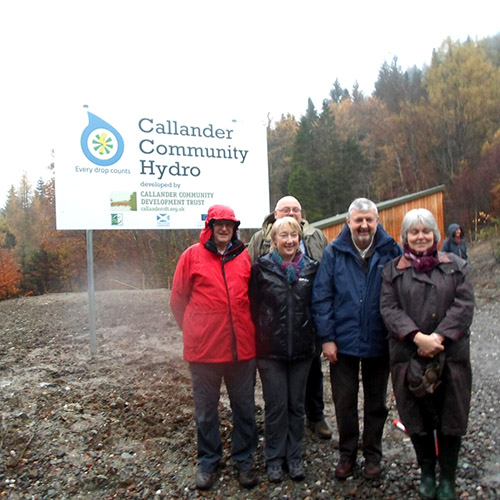 Overview
Technology: Hydro
Commissioned: 2014
Installed capacity: 425kW
Customer since: 2014
Client Background
This PIONEERING community hydro scheme will generate up to £2.85m to benefit its local area over the next 20 years. The Callander Community Hydro project is the first community-owned project in Scotland to be developed on Forestry Commission land and began generating in September 2014.
Customer
Callander Community Development Trust
Location
Callander, Stirling
Brief
The project, in the heart of the Loch Lomond and Trossachs National Park, secured £1.9m in backing from Triodos Bank, the Scottish Investment Bank (REIF) and Social Investment Scotland.
The Gilkes turbine installed is expected to generate around 1.3 million Gwh of energy per year, enough to provide electricity for approximately 300 homes.
The run-of-river scheme has been sympathetically constructed on Forestry Commission land at Stank Glen and diverts water from the Stank Burn down a buried pipeline into the turbine to produce power before being returned to the stream.
Requirement
Susan Clark of Great Glen Consulting was appointed as the client project manager in summer 2012 and managed the project in behalf of the client and was responsibility for:
Contracting strategy
Procurement and appointment of all advisors and contractors including turbine supply, PPA and civils
Negotiation of the option & lease with FCS
Securing funding, due diligence process and conversion of loans from construction to operational
FITS accreditiation
Grid agreement
Stakeholder management
Insurance
Operations & maintenance regime
Business case/plan and financial modelling
Overall project management
Testimonials
"Susan has proven to be a very effective project manager on this 425kW community hydro scheme, successfully handling the contract negotiations and diverse finance arrangements through the due diligence process and moving on to efficiently managing construction itself. She has a calm, thorough and organised approach, is straightforward to deal with and has intelligently represented the interests of her client (the community group) throughout."
"The Callander Community project team had been working on the Hydro scheme proposal for about a year, when we all realised we needed help. We wanted someone to come in, organise us and structure the work -in short we wanted a project manager.
Susan came with a proven record of managing various types of construction projects, but not running a community project and not a hydro project either, but she could be flexible in the part time arrangement we were looking for, and seemed enthusiastic and open.
She quickly got to grips with the project planning, put all the basics in place and helped us prioritise the work. Susan is very easy to get on with - but no push over. She worked out very quickly how community projects work,the limitations we had, the gaps in experience and how to fill them.
She played a major part in procuring funding, drove an exacting due diligence process and at the same time worked with the legal teams on all sides to conclude some tricky issues with the land lease. Susan was very good at spotting where we needed expert help and bringing it on board and then ensuring all parties worked together. Having a project manager who was independent from the technical specialists on the project, allowed her to be the honest broker and that proved invaluable. She is a very good communicator, keeping everyone informed and flagging up problems whilst meticulously keeping the project management basics going throughout the project.
As a board member of Callander Community Hydro Ltd, I highly recommend Susan to any community or small business about to embark on a project and needing additional help. Quite apart from her professional yet pragmatic approach and attention to detail, she is a joy to work with and she can now add experience of community and hydro projects to her CV."